This was my first French-speaking Moodle Moot and I knew it was going to be good when, arriving at the impressive entrance hall of the Université Bordeaux Ségalen, I was given, along with my welcome pack a bottle of wine – and I realised that, sadly, flight restrictions would prevent me from taking it home and I would be obliged to drink it myself during my stay… Things could only get better…
The first evening was a "cocktail de bienvenue" held at a café with  a fantastic view of their new bridge, the Pont Jacques Chaban-Delmas and gave me the opportunity to meet face to face a number of members of the French Moodle forums, headed by "Mr French Moodle Moot" Nicolas Martignoni. I also caught up with my linguistic hero Europe's "Mr Mahara" multilingual Dominique Alain Jan
The campus on the Place de la Victoire was beautiful, high ceilings, impressive pillars, huge wooden doors to the "amphis" and atmospheric courtyards to be enjoyed in the three days of pre-ordered sunshine.
Martin's keynote on Wednesday began very promisingly when he announced in French that he would like to do his presentation in French.. he would like to... but his French wasn't up to it, so he would continue in English. Interestingly, unlike the Munich Moot there was no Stefan Rinke equivalent offering a French version so his words remained untranslated. However, Nicolas M in the next keynote presented some of the latest features of 2.4 and 2.5 – and the following day (as this was a joint Moodle-Mahara Moot) Domique and Kristina Hoeppner elaborated on Mahara.
My presentations – an overview of Moodle and Mahara in NW UK -with particular reference to Our Lady's Preston of course, and a tour of Mount Orange School demo – can be seen on video here, although I think you need either Internet Explorer and/or Silverlight. Although the wifi struggled at times over the three days, on the whole it was fine and I cannot fault the techies – all in bright orange – who videoed every single presentation and had it online immediately.Superb. (That said, I stopped watching mine after I spotted two grammatical errors in the first few minutes, so I can only assume it all plays ok!)
Of the many presentations I attended my favourites, as usual, were of the "show and tell" type. I was impressed by an account of using workshop with engineering students, how a teacher of 11 year olds was using Moodle quizzes in music, how wikis were being used to build up science knowledge at secondary level and fascinated at how French university students learning Korean were helped by audio and video on Moodle to distinguish between three sounds we simply don't have the ear to appreciate. Even on the technical level, it was the personal experiences which resonated the most: a high school teacher tasked with being Moodle admin had us all engrossed in his story of the trials of upgrading to Moodle 2 with a course format which hadn't yet been upgraded -resulting in the birth of a new course format and a huge learning curve. I was also very interested to watch  cusomised use of quizzes  presented by Mylene Poitier of ituenligne.net (with whom I made some Moodle 2 videos which had been highlighted at last year's Nîmes moot) Oh and more, much more!
Food was down the road, three courses – well of course ! – with the usual French queuing up (ie, not) Two hours for lunch seemed a lot to me in contrast to other Moots, but this was France, and I soon realised you needed those two hours to eat, talk, eat more and talk more and then have coffee.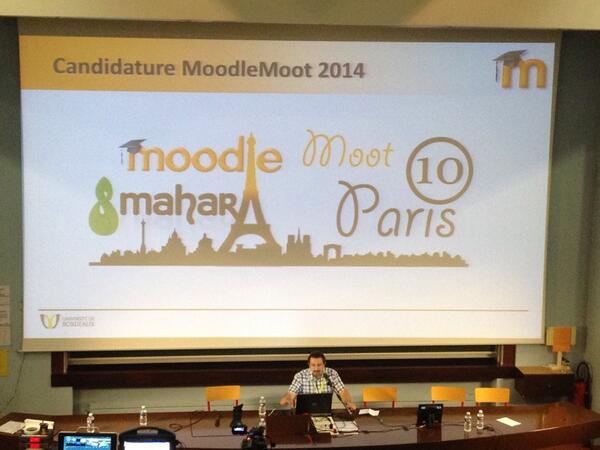 Tradition holds that at the end of the Moot, the candidates for the following year must present their bid and first up this time was Luiggi Sansonetti from Paris Sorbonne nouvelle with the most humorous and compelling bid (13 mins into here, if you have IE/Silverlight) which left me thinking how on earth could anyone top that? Then we were informed, mischievously, that nobody would need to – his bid was the only one, and so, all being well, "on se retrouve à Paris en 2014!" I can't wait!
Dieser Beitrag wurde am Sunday, 09. June 2013 um 22:09 Uhr veröffentlicht und wurde unter der Kategorie
Moodle
abgelegt. Du kannst die Kommentare zu diesen Eintrag durch den
RSS-Feed
verfolgen. Du hast die Möglichkeit einen
Kommentar
zu hinterlassen, oder einen
Trackback
von deinem Weblog zu senden.
No comments yet.