Yesterday I wrote a blog post on the Mediterranean Moodle Moot on 2nd and 3rd of October in Sousse, Tunisia. Immediately after this, on the 4th and 5th October was the second Moodle Research conference. The venue was the same -and I urge you to read the previous post to get a flavour of the environment in which we discussed research on Moodle.
This conference was smaller than  #medmoot13 ,but in many ways this was an advantage, because it meant we could all see all the presentations and not have to choose between various strands. It also meant we could personally talk to and learn about the background of all the delegates. The opening Keynote  from  University of Capetown Professor Dick Ng'ambi on Negotiating Students' Attention was interesting and in parts contentious – very good for prompting discussions. Following this, Martin talked about teaching, learning, and researching in Moodle. He  quoted research  on instructional design from Professor  Richard E Clark (which I'm going to explore further )and talked about the new logging  coming in future versions of Moodle.
The quality of papers was excellent, matched only by the quality of presentations given. You could tell this from the fact that people actually put away their laptpops, ipads and smartphones and listened! University of London colleges were particularly well represented, and we were all "wowed" by Belgian Hiram Bollaert's Full Mathematical power in calculated questions through spreadsheets. Although it isn't fair to highlight one particular paper, I think many delegates would agree Lowe and Didrick who talked about Moodle at Cass Business School – a student perspective were very engaging and have a great future!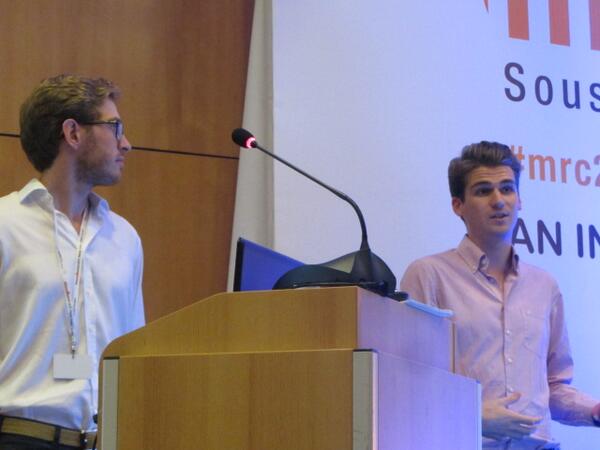 I also enjoyed the entertaining  talk and comments on MOOCs and SPOCS by their tutor Clive Holtham. I liked the informal  discussion panels at the end of each afternoon: the first on add-ons, and the second on how to encourage more Moodle research. I'm certainly encouraged – I would love to do some research to challenge my mind in a Moodle way and to broaden the sphere also. It does appear most research comes from higher education, where it is embedded; hence our appreciation of Netspot's Mark Bailye's account of Moodle in the classroom. There are a lot of unknowns in the use of Moodle and online learning in secondary education. Secondary education is my background, and I sense that while there is a lot of interesting work going on out there, lack of funding and lack of time (too busy actually teaching) prevent teachers and school managers undertaking and writing up research.
Another highlight was nothing to do with research but everything to do with Open Source: Translation co-ordinator Koen Roggemans converted my Asus netbook from Windows 7 to Ubuntu during the morning coffee, break, thus speeding up my productivity no end 🙂
Kudos to chair Michael De Raadt, the program committee, to Simos  Ritalis and again to Andrea Bicciolo  of Mediatouch 2000 for the excellent organisation. I think I enjoyed the Moodle Research conference even more than the Med Moot, but since I enjoyed the Med Moot 100% then that can't be possible. (Unless of course, you use grades over 100…..)
Want to start some research now and attend next year? Here are the details of the 3rd Moodle Research conference to be held in Long Beach California on the 10th/11th of July 2014.
Dieser Beitrag wurde am Monday, 07. October 2013 um 14:33 Uhr veröffentlicht und wurde unter der Kategorie
Moodle
abgelegt. Du kannst die Kommentare zu diesen Eintrag durch den
RSS-Feed
verfolgen. Du hast die Möglichkeit einen
Kommentar
zu hinterlassen, oder einen
Trackback
von deinem Weblog zu senden.
No comments yet.