What a beautiful city! I would call it a "hidden gem" except I suspect everybody else already knows how beautiful it was except me. And  a reasonable size for walking – and a fantastic venue for the 2014 German Moodle Moot, with the strikingly designed university – (thanks to Julian Ridden for the pic) –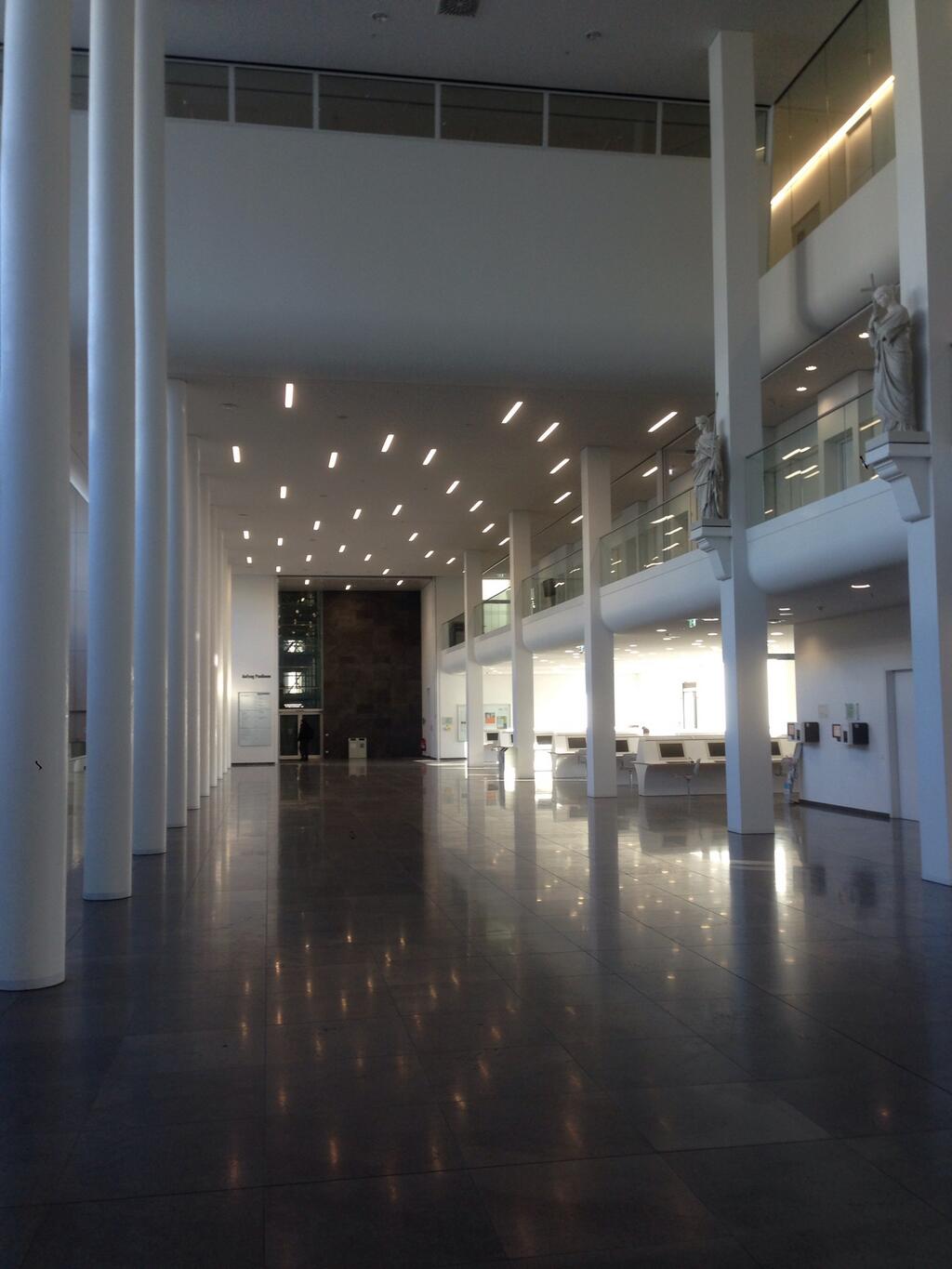 –  our hotel and the eating establishments all within minutes of each other.   I was going to take photos but then I thought it was pointless, since mine are so poor and others take much better ones, so to get a feel for the venue and the Moot, just look through Max Woodtli's collection here (Max did an excellent, interactive workshop on the Friday on sowing the seeds for learning where we were all making mini-books, trying to locate numbers on a sheet and decipher a hidden word…)
I arrived on Wednesday night, greeted by Tim Hunt who had been doing a developer workshop the previous two days along with Julian Ridden who had done a themes workshop. Julian's mother is Austrian so he enjoys coming over to Germany to make the (for an Australian) relatively short hop to Austria afterwards to see his "Oma". It was good to meet again Ulrike Montgomery from Moodle Schule and Ralf Hilgenstock from ELeDia, both Moodle partners who got a mention in my Friday keynote on the history of Moodle, "Es war einmal im Outback". Although the presentation was in German, the slides were from the wayback machine and in English, so I  hoped it would still be understood by the handful of non-German speakers there. (Photo thanks to Max Woodtli)

You can read a work-in-progress about the History of Moodle in the documentation.
Also a delight to see again was Mahara Granny Sigi Jakob and in fact this Moot was  Mahara Moot too, and every Mahara session I went to contained great real life examples of Mahara use – by Sam Taylor from Southhampton Solent, (Presentation here),  by Katia Murata Arend from Leipzig University  and by Linda Pospisilova.  from Pardubice. (Presentation here)  LInda has some photos on Flickr too (thanks!) It was also great (on the Mahara front) to  meet in person for the first time Kristina Höppner whom I normally see on  large screen beamed over from New Zealand but she was for once back in her homeland to complement the Mahara contingent. Here is a link to her Mahara Treasure Chest.
Back to Moodle -well, not quite: the Thursday keynote was by Jöran Muuß-Merholz  and was deliberately controversial, turning on its head the belief that digital technologies have made for better, more creative, independent and critical learning.  If you understand German, here is a  youtube recording of an earlier version of his presentation. Following this came hours of presentations – until 6pm with staggered lunchtimes – all short and focused. Each Moodle Moot is different, and I think a characteristic of the German Moot is that they offer such a great number of sessions. (Of course you still find you want to go to two, three or (in one case) four at the same time, but you are never short of something that will personally interest you and relate to your own experiences.
I won't list all the presentations I went to – or had to miss -but one I cannot leave out was scheduled as being by a teacher Waldemar Sobieroj who would tell us how his classes were using Moodle and Mahara. But then it transpired he was just there for offficialdom; he passed the mike to three of his students (from the Oskar-von-Miller Schule) who very eloquently went through their experiences and future plans of both systems. You can't get better or more genuine than that!
Amongst others I enjoyed finding out about Totara (yes, Totara) from Synergy Learning's Alex Büchner, adding questions to the Quiz via Excel  from EleDia's André  Krüger and Dag Klimas, and 10+ Essential Tips every Moodle admin should know  by Andreas Hruska. I realised I could understand about 85% of what was being said in the sessions, but I  had to concentrate quite hard. In English you can half listen and still pick it up, but every presentation I went to got my full attention in German!
On Thursday evening we had a fantastic buffet at the Ratskeller, in the basement of the New Town Hall. Incredible architecture. On my final afternoon, while waiting for the train to get the plane, I realised I had seen hardly anything of Leipzig. Our hotel was directly opposite the famous Nikolaikirche Leipzig 
Leipzig university itself had an incredible new main building
but it was thanks to Regina from the University of Zurich that I got to see ALL of Leipzig in one go -from the Panorama Tower next door – 29 floors up and then a couple of euros to get onto the viewing platform. Highly recommended!
And for a bit of odd retro souvenirs – and a lot of  toy Trabants – there was the Allerlei- DDR (GDR)  a shop selling  East-Germany old-style sweets and goods you'd find typically in our Pound shops.
With Regina's company I got to Leipzig airport with plenty of time for my connecting flight to Frankfurt, only to discover it had been cancelled without explanation. I waited nearly an hour in a long queue of frustrated people being sent back to town with a hotel room and told to return tomorrow. Fortunately for me as I only wanted to go to England and not some distant destination such as Rio or Manila, after my long wait it took the assistant 2 minutes to rebook me onto a connection via Munich and I was home not much later than I would have been flying via Frankfurt.
So a big  thank you to all the Leipzig team and especially Konstanze who has patiently answered my emails for the last few months and who worked very calmly and competently throughout. Mootde14: Ein grosser Erfolg!
Dieser Beitrag wurde am Monday, 03. March 2014 um 17:47 Uhr veröffentlicht und wurde unter der Kategorie
Moodle
abgelegt. Du kannst die Kommentare zu diesen Eintrag durch den
RSS-Feed
verfolgen. Du hast die Möglichkeit einen
Kommentar
zu hinterlassen, oder einen
Trackback
von deinem Weblog zu senden.