I don't know which brand of coffee that serial Moot organiser Gavin Henrick drinks, but I definitely want some! Yet again he pulled off a magnificent Moodle Moot, this time in beautiful (and surprisingly sunny) Edinburgh. The presentations, panels and workshops were varied and valuable; staff at the hotel and venues were unobtrusive, efficient and above all – just there. And of course the two things upon which all conferences are judged: food and wifi were both superb.
So.. my personal highlights:
On the Monday , Quiz maintainer Tim Hunt, his  Open University colleague Mahmoud Kassaei and  I did a workshop on the Quiz. For me this was a double hit because not only did I get to do some "teaching" but also some learning as Tim and Mahmoud went through the intricacies of the OU Question types (which many people would like to see in core) What I liked was that Tim had planned it so that it wasn't just about the technicalities of setting up a quiz but the pedagogy behind it; my contributions focused on what makes a good question; how to spot poorly phrased questions which will hold back students' progress.
Late Tuesday afternoon I attended a session by Dr Jane Holland which also looked at this aspect of MCQs and which was probably my favourite session. When you first make a quiz you tend to go for multiple choice and not put a great deal of thought into it – yet this can create horrendous (and entertaining!) outcomes for the learners. (Those with accounts on the Moodle Moot site can access Jane's materials for a  month with enrolment key MCQ)
On Tuesday morning I decided to go to two gradebook-based sessions, one by Phineas Head and one by Piotr Jaworski. Phineas turned out to be not only a great speaker and popularly voted "Moodler of the Year" at the gala dinner – but also incredibly handsome!
Following this I had booked my place at Gideon Williams' session on "Transforming a Learning Curriculum." Gideon is a teacher at Perins High School, which I've long considered a "sister" school in the south to my old school, Our Lady's Preston, in the north,  both being very Moodle-focused. I appreciate the issues with cost and time but I still wish we could get more secondary and primary school teachers to come to Moodle Moots.
Sadly, desperately sadly, just before Gideon's talk began I got a call from @teknoteacher with some really upsetting news from my old school which left me in a daze for the rest of the day and most of the rest of the conference, so there won't be as much detail in this blog as I would have normally given.
Martin's keynote on Tuesday afternoon talked about Moodle valuing "teachers" – the term meaning anyone who educates others. I guess that makes me still a teacher then, as Moodle's Community Educator, which is nice. Once a teacher… He talked about what's new in Moodle 2.7 Over the next couple of weeks the Sites team will be working on new features highlight pages, documentation and screencasts ready for the May release. (Picture thanks to @moodleroomsEMEA)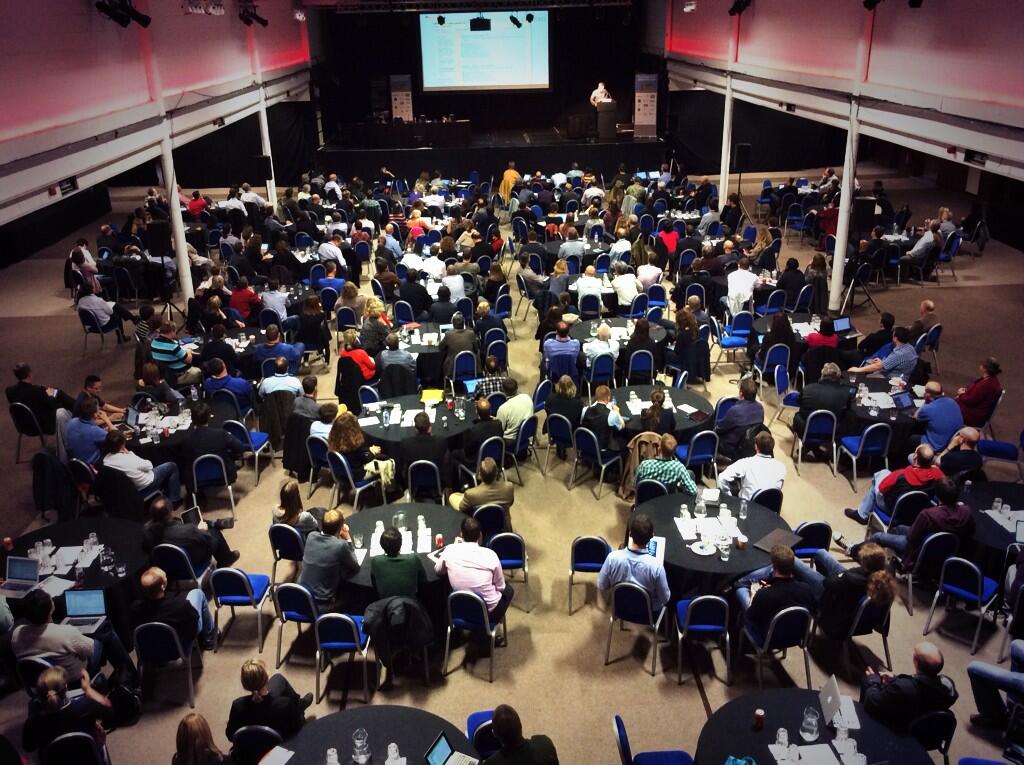 The grand gala dinner in the evening at Our Dynamic Earth was unsurpassed, and with the added bonus that there was a fascinating underground walk around -well – our earth and oceans! Drew Buddie snapped Community Manager Helen Foster and myself by some friendly gentle prehistoric creature: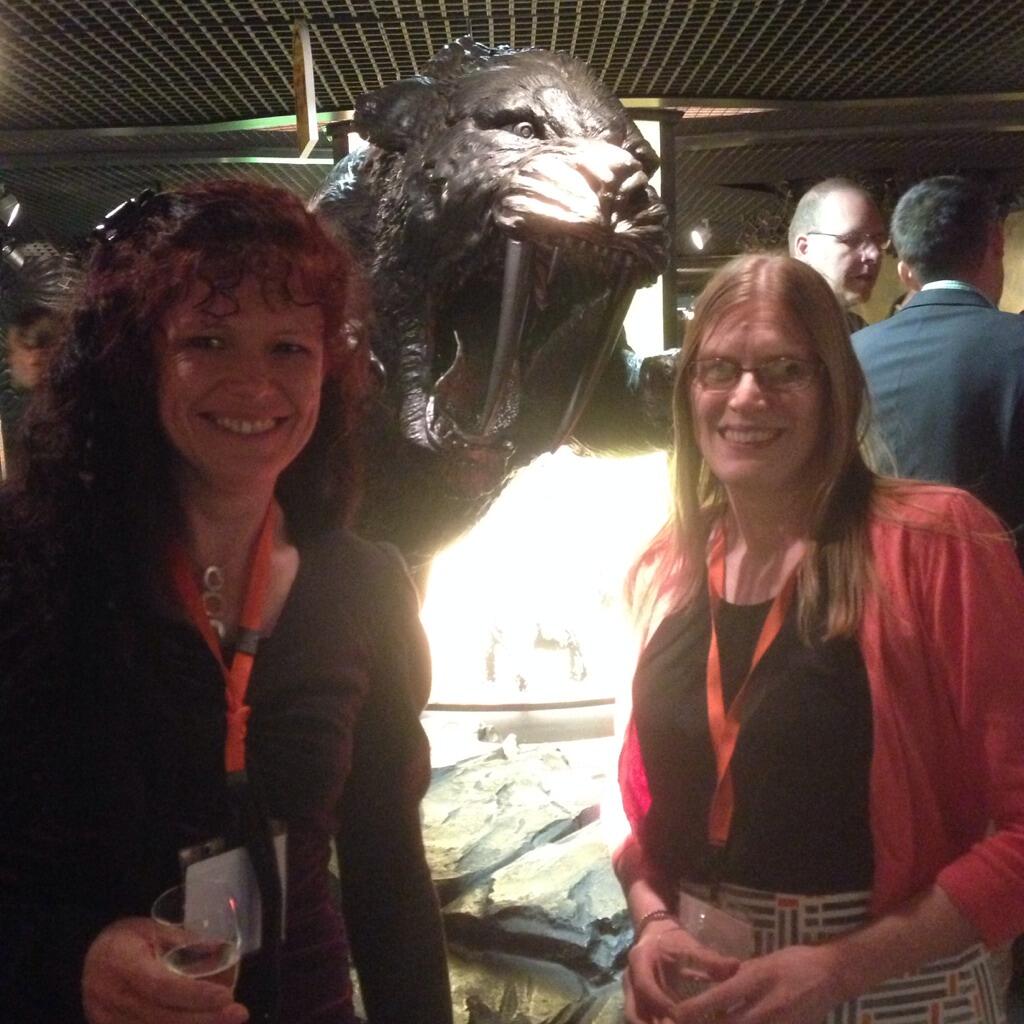 Thanks to Moodle partner E-Learn Design for sponsoring the gala dinner. I went to their session on Iomad, a multi-tenancy solution they have released to the community. It looks very useful and straightforward to manipulate, but there is also paid-for support if you so desire. (And it's pronounced ee-maw)
On Wednesday, Marcus Green did the best "elevator pitch" I had ever seen for his gap fill question type and raised a smile in me at an unsmiley time; thanks. I wasn't brave enough to do a Pecha Kucha session this year, but admired Michelle Moore for her clever "Give a Mouse a Moodle" idea which you can see here on Slideshare. Michelle shares all her presentations on Slideshare, which is something maybe I should think of doing too.
Moodle.net is Moodle's  somewhat underused community hub, where you  can either find a course to download or enrol in, or search for individual bits of content like quiz questions or glossary entries. Martin chaired a panel discussion to talk about improving and enhancing, revamping Moodle.net, out of which some interesting ideas came, which I'll blog about another time. We certainly need to find ways to encourage reticent teachers to share and make the process of sharing courses and content easier.
I had a train to catch at 6.10 so sneaked out quietly before the final proceedings.  I'd like once again publicly to thank  the sponsors and especially Gavin -and Karen – who must be devoted to him – cherish him Karen 😉
And see you all again soon!
Dieser Beitrag wurde am Saturday, 19. April 2014 um 14:16 Uhr veröffentlicht und wurde unter der Kategorie
Moodle
abgelegt. Du kannst die Kommentare zu diesen Eintrag durch den
RSS-Feed
verfolgen. Du hast die Möglichkeit einen
Kommentar
zu hinterlassen, oder einen
Trackback
von deinem Weblog zu senden.
No comments yet.