Talking Moodle, speaking French, experiencing the City of Love – who could resist? Not me 🙂 I tend only to go to Moodle Moots if I'm invited to speak, but last year in Bordeaux Luiggi Sansonetti had given the most entertaining "pitch" I'd ever heard for holding the Moot at his place, the Université Paris Sorbonne Nouvelle, that I decided immediately to save up and sign up. And so, last Tuesday afternoon I eagerly set off from Preston to the 10th Moodlemoot francophone in Paris.  And Luiggi came good on all his promises – even (eventually!) le soleil!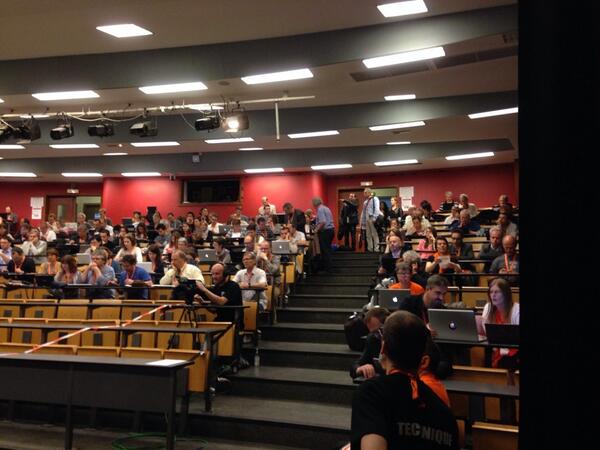 We kicked off on Wednesday morning with the Father of the Francophone Moot, Nicolas Martignoni followed by Moodle founder himself Martin Dougiamas "en live" to the great delight of all attendees. He lost count of the number of requested selfies with him -in the hundreds I believe! Thursday began with my language Hero Dominique Alain Jan, (one of the kindest people I've ever met), and a suprise appearance from Catalyst UK's Meredith Henson (and simultaneous translation by Dominique – Respect!)
One of the great pleasures of attending moots worldwide is seeing where the emphasis lies, in which sector; all moots are different. The French moots last three days, ample time for a great many presentations and workshops and are very much university focused. I won't go into detail into all the interventions I saw because I don't want to offend anyone whose  presentation, name or twitter handle I miss out, but here are quelques petites remarques:
There was a pleasing amount of analysis, reflecting on how the teaching/use of Moodle went, using reports to move forward and also honesty, with presenters sharing what didn't go so well in addition to their successes.
The Moodle quiz does seem extremely popular and heavily used, although there were concerns with Certainty Based Marking, its effect on the gradebook and a dislike for the negative grade a student could potentially get. (If you can speak French or read graphs, here's just one example, but there were others just as interesting)
It was gratifying to see people presenting for the first time, sharing their personal experiences and taking us live into their courses. Not a negative comment but a constructive one – it would be great in future, if you do this, to magnify your course page or to take magnified screenshots as I found myself straining to see what was obviously really interesting and some great ideas.
The live streaming was very successful, although if you wanted to watch two simultaneous talks -one on your laptop and one live in front of you, I don't think you'd have benefited from either! But I'm presuming the recordings will be made available soon and I look forward to watching the ones I didn't get to see.
The Learn Moodle MOOC was still being talked about, questions asked about repeating it. While HQ probably won't run it again, Moodle partners are welcome to, and there is in fact an Italian MOOC  currently run by Mediatouch   There is also some interest in running a French speaking MOOC; I'm keeping my fingers crossed for that.
Moodle docs in French: people are quick to complain but slow to contribute. I'm going to try really hard in my free time (my job is not French docs) to bring some pages up to date but if each person who mentioned the docs took 30 minutes just to translate one of the English pages into French, we'd have a much better resource 🙂
And it wasn't just about the talks! Evening entertainment was provided too -from the first night cocktails de bienvenue which turned out to be utter heaven for an Anglo-Saxon like myself: as much beer and pizza as you could want! – to the second evening's private tour of the Natural History Musum's Paleontology section: more skeletons and preserved monsters than you could ever imagine!

We also got a free entry into the botanical gardens, but for this we had to sécher or skip (nick off!) some presentations – and being a good girl, I couldn't bring myself to do this, so sadly I missed out on that. The proximity of everything was a real advantage with this Moot – the  nice little hotel I'd found for example, was four minutes from the venue;  the museum was under ten minutes walk away and on the Wednesday night I was spoiled for choice finding myself somwhere to eat with the number of little cafés and bistros on the same or nearby roads.
Fun was additionally provided each day by the défi or challenge, of trying to include the word of the day wherever convenient – these words being, in day order: mammouth, vermouth and moumoute!
I did a presentation on the Friday morning – "Il était une fois dans l'outback", a shorter (and French) version of  my German MoodleMoot Keynote (video here). It's below, without the music or commentary. Much of it is from the Wonderful Wayback Machine.

On a personal note, I really appreciated being able to practise my French again, and included in that, challenging myself to acclimatise to Canadian French (very hard!) I was also delighted to meet face to face Joseph Rézeau, with whom I have communicated almost daily on the forums for several years. And others too! Finally, no moot is complete without a mojito so thanks to Dominique for treating me to one in the last hour of my stay.
There's a Google plus page for mootfr14 photos, which is great because I am very bad at taking photos so I look forward to looking through everyone else's good ones.
Dieser Beitrag wurde am Sunday, 08. June 2014 um 18:55 Uhr veröffentlicht und wurde unter der Kategorie
Moodle
abgelegt. Du kannst die Kommentare zu diesen Eintrag durch den
RSS-Feed
verfolgen. Du hast die Möglichkeit einen
Kommentar
zu hinterlassen, oder einen
Trackback
von deinem Weblog zu senden.