On Friday I spent a very pleasant afternoon in Leeds, attending the opening of the shiny new offices of Moodle Partner Webanywhere As an ever-expanding company (branches in Poland and the USA as well as UK) they are going up in the world – literally so – as the new office space is on the 6th floor of the Leeds City Exchange. We were greeted with a magnificent "spread" in the meeting room, complemented by a magnificent view, which my photos cannot do justice to:
Along with  company employees, MD Sean Gilligan and the whole Gilligan clan (Webanywhere's a company which has managed to go international while at the same time retaining the family-run personal touch) the new office space was graced with the presence of the Lord Mayor of Leeds, the CEO of Leeds City Council and  the poet/broadcaster and serial tweeter Ian McMillan. But the main star of the event was Year 10 poet Emily who won a competition to write a poem about computers taking over the world. AShe came along with her mum, gran and English teacher (perfectly described on his badge as "Emily's English teacher") After  Sean gave a brief history of Webanywhere  which began, like Moodle, in its founder's bedroom), Ian read Emily's poem and presented her with her prize, an ipad mini. This photo courtesy of @webanywhere: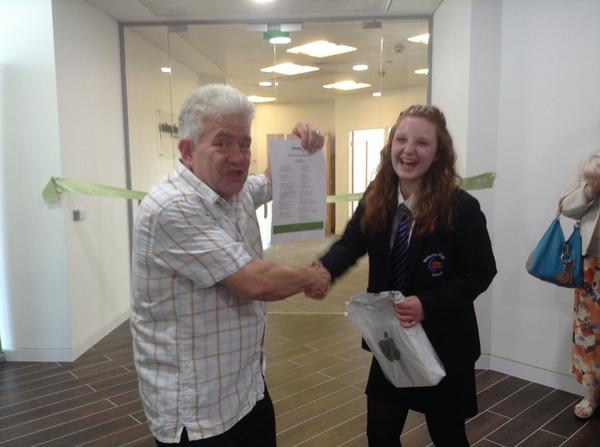 Sean had told us that Webanywhere's original slogan was "Web here, Web there, Web anywhere" which Ian insisted we then chant as  he cut the ribbon to officially open the premises:

My family had said I should get a "selfie" with Ian since I have a new fairphone I am trying to get to grips with. However, I'm not convinced selfies show you off to best effect when you are over a certain age… so I had one taken from afar instead. Ian said to give it meaning we needed to be holding something, so here we are, with the Totally Random Moodle Nibbles bowl award 🙂
Thanks for inviting me!
Dieser Beitrag wurde am Sunday, 07. September 2014 um 10:09 Uhr veröffentlicht und wurde unter der Kategorie
Moodle
abgelegt. Du kannst die Kommentare zu diesen Eintrag durch den
RSS-Feed
verfolgen. Du hast die Möglichkeit einen
Kommentar
zu hinterlassen, oder einen
Trackback
von deinem Weblog zu senden.
No comments yet.